With the new year comes new books! That said, each month I'll be highlighting 10 books that I'm looking forward to this year! Think of it as an extended Waiting on Wednesday :)
So, without further ado (and in no particular order)...
Veronica Walsh is 15, fashion-minded, fat, and friendless. Her summer job in the Consignment Corner section (Employees Only!) of a vintage clothing store is a dream come true. There Veronica can spend her days separating the one-of-a-kind gem garments from the Dollar-a-Pound duds, without having to deal with people. But when two outrageous yet charismatic salesgirls befriend her and urge her to spy on and follow the mysterious and awkward stock boy Veronica has nicknamed the Nail, Veronica's summer takes a turn for the weird. Suddenly, what began as a prank turns into something else entirely. Which means Veronica may have to come out of hiding and follow something even riskier for the first time: her heart.
2. Something Like Fate
By Susane Colasanti
Release Date: May 4, 2010
Synopsis (From Penguin):
Best friends Lani and Erin couldn't be more different. Lani's reserved and thoughtful; Erin's bubbly and outgoing. Lani likes to do her own thing; Erin prefers an entourage. There's no possible way they could be interested in the same guy.

So when Erin starts dating Jason, Lani can't believe she feels such a deep connection with him—and it may be mutual. The more Lani fights it, the more certain she feels that it's her fate to be with Jason. But what do you do when the love of your life is the one person you can't have?
3. A Match Made in High School
By Kristin Walker
Fiona can be hard to get along with: she's a little prickly, clueless, opinionated, and unrelenting. When a course on marriage, a requirement for graduation, forces her to wed Todd, a male cheerleader, she is flabbergasted. They are the worst match on the planet, and she just knows this will be torture. To make matters worse, her best friend announces that she is in love with Fiona's lifelong crush, and that she finds Fiona too self-absorbed. Fiona is, of course, hurt, and left without a friend on whom she can rely. However, her senior year is also filled with hilarious situations. As she deals with her trials and tribulations, Fiona learns a great deal about herself and about how to interact with other people. While the book is laugh-out-loud funny in some places, it also gives readers time to pause and think about priorities, relationships, and making the most of trying situations.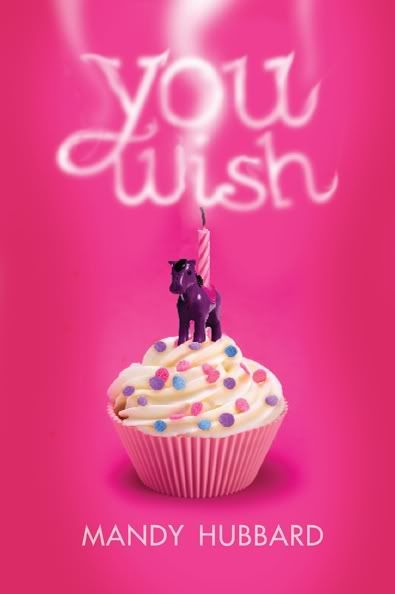 Release Date: August 5, 2010
Kayla McHenry's sweet sixteenth sucks! Her dad left, her grades dropped, and her BFF is dating the boy Kayla's secretly loved for years. Blowing out her candles, Kayla thinks:

I wish my birthday wishes actually came true. Because they never freakin' do.
Kayla wakes the next day to a life-sized, bright pink My Little Pony

outside her window

.

Then a year's supply of gumballs arrives. And a boy named Ken with a disturbing resemblance to the doll of same name stalks her. As the ghosts of Kayla's wishes-past appear, they take her on a wild ride… but they MUST STOP. Because when she was 15? She wished Ben Mackenzie would kiss her.
And Ben is her best friend's boyfriend.
Release Date: April 27 2010


Synopsis (From HarperCollins):
Before Sex and the City, Carrie Bradshaw was a small town girl who knew she wanted more. She's ready for real life to start, but first she must navigate her senior year of high school. Up until now, Carrie and her friends have been inseparable. Then Sebastian Kydd comes into the picture, and a friend's betrayal makes her question everything.
With an unforgettable cast of characters, The Carrie Diaries is the story of how a regular girl learns to think for herself, and evolves into a sharp, insightful writer. Readers will learn about her family background, how she found her writing voice, and the indelible impression her early friendships and relationships left on her. Through adventures both audacious and poignant, we'll see what brings Carrie to her beloved New York City, where her new life begins.

P.S The cover looks amazing!! That alone makes me want to read it :)
The perfect romantic makeover story about an every-girl whose dream comes true . . .
Beatrice Wilson is our lovable Cinderella, who just got dumped by her very first boyfriend and put on twenty-five pounds. But then she's discovered as a plus model. In the eyes of pop culture, Bee is Jessica Alba and then some! Now she must vanquish skinny rivals, fend off sleazy photogs, and banish jealous frenemies in her rise to superstardom. All the while, she's torn between her first love and the surprisingly sincere up-and-coming rapper she tutors in calculus. But what's better than finding your prince charming? Finally learning to love yourself!

Release Date: May 13, 2010


Eighteen-year-old Anabelle's last few months in her coastal hometown are bittersweet. Instead of the quiet precollege summer she expects, Anabelle makes some surprising discoveries about herself as she navigates romantic entanglements and changing friendships. Through shifting points of view in seven interconnected stories, we glimpse the limits of how well her friends really know Anabelle . . . and how little she grasps about the way they see her.
By: Cindy Martinusen-Coloma


Release Date: May 4, 2010
Private school, rich friends, vacations in France--Kate has it all, except a belief in love.

When Kate's family purchases a hotel in the Pacific Northwest, she enters a world that is wholly unknown to her. She never has any privacy because of the constant flow of guests. And as the hotel owner's daughter, she struggles to make friends.


Then she meets Caleb, a strange combination of working-class, Hawaiian culture, and Christian bad boy. He talks about love in an all new way that she finds so alluring. But the two have nothing in common. He rarely smiles, rides a motorcycle with a rough crowd from town, and worst of all, he totally ignores Kate. But Kate has something that he needs and she resolves to prove to him that what she has doesn't define who she is.
9. The Cinderella Society
Release Date: April 13, 2010
Sixteen-year-old Jess Parker survives by staying invisible. After nine schools in ten years, she's come to terms with life as a perpetual new girl, neither popular nor outcast. At Mt. Sterling High, Jess gets the chance of a lifetime: an invitation to join The Cinderella Society, a secret club of the most popular girls in school, where makeovers are the first order of official business. But there's more to being a Cindy than just reinventing yourself from the outside, a concept lost on Jess as she dives tiara-first into creating a hot new look.

With a date with her popular crush and a chance to finally fit in, Jess's life seems to be a perfect fairy tale. That is until the Wickeds--led by Jess's archenemy--begin targeting innocent girls in their war against the Cindys, and Jess discovers her new sisterhood is about much more than who rules Mt. Sterling High School. It's a centuries-old battle of good vs. evil, and the Cindys need Jess on special assignment. But when the mission threatens to destroy her new dream life, Jess is forced to choose between this dream realized and honoring the Sisterhood. What's a girl to do when the glass slipper fits, but she doesn't want to wear it anymore?

Release Date: March 2, 2010


When someone leaves three mystery flowers outside her dorm door, Laurel thinks that maybe the Avondale School isn't so awful after all — until her own body starts to freak out. In the middle of her English presentation on the Victorian Language of Flowers, strange words pop into her head, and her body seems to tingle and hum. Impulsively, Laurel gives the love bouquet she made to demonstrate the language to her spinster English teacher. When that teacher unexpectedly and immediately finds romance, Laurel suspects that something — something magical — is up. With her new friend, Kate, she sets out to discover the origins and breadth of her powers by experimenting on herself and others. But she can't seem to find any living experts in the field of flower powers to guide her. And her bouquets don't always do her bidding, especially when it comes to her own crush, Justin. Rumors about Laurel and her flowers fly across campus, and she's soon besieged by requests from girls — both friends and enemies — who want their lives magically transformed — just in time for prom.